NASHVILLE AVCA COLLEGE PREP COMBINE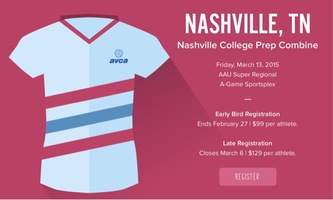 Are you looking to get recruited for potential college scholarships?

Are you graduating from high school in 2015, 2016, 2017, 2018?
If you're coming to Nashville for the AAU Super Regional Tournament, and the answer to either of those questions is "yes", you should take advantage of this great opportunity to get evaluated!!!
What is it?
The AVCA College Prep Combine is a two-hour low impact, high value data gathering session that assesses a player's physical potential (avcaVPI™) and behavioral temperament (ABP), both critical factors in informing the college-bound volleyball player about her choices. Any female volleyball player graduating from high school in 2015 to 2018 can attend. Assess where you stand compared to other players your age and/or position, build your recruiting portfolio with metrics validated by the American Volleyball Coaches Association (AVCA), start to process where you should look for collegiate opportunities and get college recruiting information from the National Collegiate Scouting Association (NCSA).
The 2014 Nashville Combine was a great success with high school volleyball players participating in two separate waves. We are working with AVCA to set up this year's schedule, but here is last year's schedule for planning purposes:
The first wave started at 5:30 pm (registration opened at 4:00pm)
The second wave started at 7:30 pm (registration opened at 6:00 pm)
2015 Details

Nashville AAU Super Regional, A-Game Sportsplex
Friday March 13, 2015
Early Bird Registration —
Ends February 27 | $99 per athlete.
Late Registration
— Closes March 6 | $129 per athlete.
For More Information (click link and scroll down to Nashville Combine):
http://avcaphenom.com/combines/
Registration Link:
https://apps.avca.org/eWeb/DynamicPage.aspx?WebCode=CPCREG&evt_code=15CPCNash
---