Tournament Information & Rules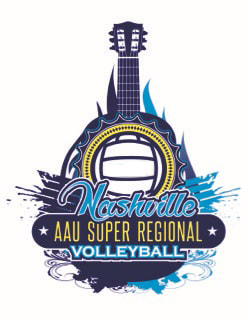 AAU SUPER REGIONAL NASHVILLE TOURNAMENT INFORMATION & RULES
Admission Cost:
CASH ONLY! NO CHECKS OR CREDIT CARDS WILL BE ACCEPTEDOne day pass-$7 per Adult (13 and older)Two day Pass-$12 per Adult (13 and older)One day pass-$4 per child (6-12 years old)Two day pass-$7 per child (6-12 years old)Children 5 yrs of age and under are free.
​
​Parking Charge and important info:
A-Game Sportsplex: NO PARKING CHARGED
Ag EXPO ParK: $5 PARKING CHARGE EACH DAY
Ravenwood High School: NO PARKING CHARGED
Summit High School NO PARKING CHARGED
Centennial High School: NO PARKING CHARGEDPlaying Site InformationA-Game Sportsplex
215 Gothic Court, Franklin, Tennessee 37067
Courts: 1a, 1b, 2a, 2b, 3a, 3b, 4a, 4b, 5a, 5b, 6a, 6b
Ag EXPO Park
4215 Long Lane, Franklin, Tennessee
Website:
http://www.williamsoncounty-tn.gov/index.aspx?NID=594
Courts: 13-20
Ravenwood High School
1724 Wilson Pike | Brentwood, TN 37027
Courts: 21, 22, 23
Summit High School
2830 Twin Lakes Dr, Thompson's Station, TN 37179
Courts: 24, 24, 26
​
Centennial High School
5050 Mallory Lane Franklin, TN 37067
Directions:
www.wcs.edu/chs/about-chs/mapdirections
Courts: 27, 28, 29
Team Check-In
There will be team check in at A-Game
​
Please read below for extra info:
Please bring your own balls and carts.
There will be trainers only at AGame and Ag EXPO Park!
AES will have results posted live! Please make sure you check your scores and that you do not have to play a tiebreaker match.
The venues do NOT allow ice chests or outside food/drink to be brought into the facility. We will have concessions open at each location.
Please do not leave ice chests outside of the building. It is not ideal for building security.
There can be no ball handling inside any facility except on the assigned court.
Folding Chairs are allowed at AGAME. All other location Folding Chairs of any kind are not Allowed.
​​
A-Game Sportsplex Facility Rules
A-Game courts will be open one hour prior to the first game starting.
Tickets will start being sold one hour prior to the first game starting.
No outside food or drinks are allowed. Team meals are not allowed in the building. No chewing gum. Concession will be available on site. Please be mindful that the concession stand will be "cash only."
No coolers allowed—water coolers are provided for the players.
You may bring collapsible travel chairs into the tournament. However, they must have rubber pads/bottoms. Chairs that have metal legs with no pad will not be allowed on the courts. Metal lawn chairs are not allowed. Please keep in mind that A-Game provides bleacher seating as well as space on the mezzanine.
A-Game is a smoke-free facility.
No ball handling in the courts hallway, mezzanine, lobby, concessions, or outside of the courts.
Display good sportsmanship: NO foul language or fighting.
No unsupervised children in the facility at any time.
Alliance will not be responsible for any unattended items.
AGAME Tailgating Rules
No grills allowed.
You may not setup a tailgating area (tents/chairs) on ANY concrete area, unused parking spot, or facility walkway. If setting up a tailgate area it must be located on one of the grass medians and not on concrete.
AGAME Parking Notice
Please be aware that A-Game's parking lot will be crowded so we recommend that you arrive early enough to find parking before the games begin.
Park in designated spots only. No parking on the grass medians. No parallel parking along any curbs whatsoever—yellow or otherwise—except behind the building where parallel lines are explicitly painted. Illegally parked vehicles will be tagged and subject to ticketing or towing.
In addition to A-Game's front parking lot, back parking lot and lower level lot.
Rules / Tie Breaking Results
Tie Breaking Procedures – Saturday Pool Play Only
Playoff Games will consist of 1 set to 25 (no cap).
If there are more teams tied for the Gold bracket than there are positions, the tied teams must have a playoff game. Teams shall not be eliminated based on set or point differentials.
No playoff game will be played if teams tied both advance to the gold bracket or neither team advances to the gold bracket. Position will be determined head to head.
If a tie occurs and the coach/team are not present, you will have 15 minutes to get to the court. If your team/coach does not show up then your team will be placed in the last position. If 2 teams/coaches don't show up then both will be placed in the last 2 positions based on earlier ranks. If all teams don't show up then the pools finish will be determined by the earlier ranking.
Playoff Schedule
All 2 way ties
#1 team will be the team which won the pool play match between the 2 tied teams, even if there is an opportunity to advance to the gold bracket (rationale: the teams that are tied have already determined the better team through play)
3 way tie for 2 positions in the Gold Bracket
Seed teams based on set % then point % (if tied by sets). 1st seed will be 1st in the pool and will officiate the tie breaking set. 2nd seed plays 3rd seed. Winner advances as 2nd in the pool
3 way tie for 1 position in Gold Bracket 3-Team Pool
Seed teams based on set % then point % (if tied by sets) for all 3 teams. 3rd seed plays 2nd seed. Winner plays 1st seed. Winner advances.
3 way tie for 1 position in Gold Bracket Challenge Pools
If a tie occurs in a challenge pool with only first place going to championship/gold bracket, then a playoff will occur. We will seed the teams according to earlier procedures and play a single 25 point set between seeds 2 and 3, with #1 seed officiating, then play a second 25 point set between the winner and the #1 seed, with the loser officiating. The winner of the second set will advance.
Any situation that is not addressed above will follow USAV guidelines.
Tie Breaking Procedures – Sunday Pools Only
There will be NO playoffs if a tie occurs in pools played on Sunday. It will be determined as follows:
Set differential
Point differential
Protests
If a protest is to be filed, it must be done AT THE TIME OF THE INCIDENT, NO LATER. The first referee is obliged to acknowledge and record all protests. All protests will be ruled on prior to the next service. Judgment calls may not be protested.
SATURDAY AM & PM SHIFTS SCHEDULE
12's AM/PM
13's AM
14's AM
15's AM
16's PM
17's PM
18's PM
Playing schedule will be posted on Wednesday, March 1st after 12pm
Sunday Bracket Play
Each team is guaranteed 2 matches on Sunday, therefore, please make sure you read the bracket carefully before you leave the site. You may officiate prior to your first bracket play match. In most cases, the losers will officiate but some winners will be required to officiate as well. You could officiate a different division than you are playing but generally you will stay on the same court as you played to officiate. In bracket play, if at the end of the day, two teams are listed as refereeing team, the LAST team to finish their last match will be the one responsible for fulfilling these duties.
Warm Up Schedule
4 minutes TEAM 1 at net then 4 minutes TEAM 2 at net
Spectator Warning:
As spectators, you may choose to be in close proximity to the volleyball courts. You do so at your own risk. Be mindful that volleyballs may come from multiple directions.
All matches will be best 2 out of 3 games (no caps)
OFFICIAL SCHEDULE
The results will be updated throughout the day on Advanced Event Systems and computers will be available for teams to check their results at both sites. If there is a discrepancy please go to the Main Tournament desk immediately so that any issue can be resolved in a timely manner.
Officiating Duties
A team's failure to have an officiating crew (certified down referee or coach, two scorekeepers and two line judges), ON TIME, for a match officiating assignment will lose one point for each minute late on their next match. You must ensure the referee knows your team is ready to officiate – do not just sit beside the court. It is not the referee's job to find your team.
Down referees must be:
For 12's-18s - CERTIFIED player (not players that have only attended reffing clinic) or coach
Coaches must be present at all times even if players are officiating.
PLEASE NO FOOD, CELL PHONES OR ANY MEDIA DEVICE OF ANY KIND AT THE SCORE TABLE.
Time Schedule
Matches will begin earlier than the listed time when permissible based on referee rotation.
Looking forward to meeting you and welcome you to the NASHVILLE AAU SUPER REGIONAL!
Thanks so much!
Jimmy and Peggy Miranda
---